Aida Arko
Vienna based Aida Arko is an electronic music producer, DJ, label owner and resident DJ at Grelle Forelle club and Maximum Radio. She has chosen to stand in solidarity with the #ForTheMusic campaign against sexual harassment, to spread awareness and join forces to establish and create safer spaces within the electronic dance music community.
Andreea Magdalina
Founder of She Said So, an independent global community of women and gender minorities in the music industry. Andreea is also an exceptional speaker on topics such as music partnerships, artist development, community building, digital marketing, and empowering women in the music industry.
Darko Esser
Balans and Wolfskuil labels owner, producer and DJing under his Tripeo alter ego, Darko is committed to the industry, as can be shown with his role as Talent Booker and Resident DJ for Doornroosje in Nijmegen, Holland.
DJ Empress
Hailing from NYC, the DnB DJ and producer is fiercely passionate about reaching as many people as possible through the power of music. Empress now has chosen to use her voice as well as music to stand up and speak out about the harassment within the dance music industry.
Frances Barber Shillito
Living between the UK and Ibiza, Frances is the CEO of FRNT MGMT, a female lead artist management company. As a survivor of assault she shares her experiences and expertise as an AFEM Board Member for Sexual Assault and Gender Discrimination as well as being an advocate for speaking about mental health within the industry.
Jaguar
London based Radio 1 DJ and presenter, Jaguar, is part of the new DIY generation, blurring the lines of what a potential a DJ can be; producer, radio producer, presenter, promoter and DJ. An active member of the LGBQT+ community, Jaguar is fighting to unite the whole dance music scene together, with community being the operative word.
Julian Muller
French Dj and Producer based in Brussels, defending values for a healthier and safer environment through different projects all within the music industry.
Lauren Flax
Lauren Flax is a Detroit native and long time Brooklyn resident, a versatile and unique artist DJ, and activist.
Lisa Q
From her first residency at megaclub Vision to her decade-long stint hosting electronic music show WLUW's Destination Unknown, her popular weekly at legendary club Neo, and regular gigs at Smartbar, Lisa established herself in Chicago with genre-spanning sets focused on dark and futuristic sounds. Moving on to NYC and then Berlin, she is now a resident of Disobedient Circumstance, a women-first techno party which calls ://about:blank home.
Louisahhh
Paris-based, New York bred Louisahhh is a multi-talented sonic artist and co-founder of the label RAAR in addition to being an adamant, joyful upsetter, bent on making 'techno for punks/punk music for techno-heads'. Louisahhh is also a sex-positive feminist and co-host of the podcast 'Sober Sex'.
Melissa Mercader
Melissa is working for more than 7 years in the world of electronic music where she created in 2017 a queer, subversive and inclusive event's series named MYST. Through this event series and in her career Melissa is fighting for liberty of the bodies and mind. By being engaged with feminism and LGBTQI+ causes, it made sense for her to join forces and represent the movement #ForTheMusic in France.
Luciana Balbi
Luciana is a citizen of the world and believes that music can unite forces and make changes. She is the Latam Director of Femnoise a digital platform that connects, empower and give tools for women, non binary people and LGBTQI+ professionals in the music industry. Femnoise aims to reduce the gender gap in the music ecosystem. Luciana is also the founder and content creator of WaanaMusic.
Mike Wall
Brighton, based DJ/ Producer, Owner & Radio show host on Istreem radio. Starting his journey in the dance music world back in the early 90's rave scene, he strives to keep the power of unity strong in our scene. "I feel that it's really important that we break the silence, more male artists need to come forward, speak up, speak out, stand by the side of females and support"
Natalia San Juan
Director of Femnoise, a digital platform and booking agency based on the feminist digital economy, which was created to build global bridges to reduce the gender gap in the music industry ecosystem. She is currently promoted as Innovator by the European Keychange 2020/2021 program and also promoted by the European Music Manager Alliance during 2020.
Pierre Sainz
Over the past decade, Pierre has been working alongside some of the biggest European booking agencies which has led to the creation of his own management and booking company, based and operating from Berlin: Reprise Talent Agency.
Rebekah
Birmingham born, Berlin based Techno DJ and Producer, purveyor of sober and clean living within the scene.
Rocío Cusmano
Rocío Cusmano is a journalist, translator and content director for the electronic music media Danzfloor (@danzfloorapp, Argentina). Danzfloor advocates for egality and a more conscious scene with their campaign #PorUnaEscenaConsciente. She also DJ/s under the moniker HiHatDancer.
Sacha Wall
Sacha is an independent force to be reckoned with, and one with many stories of over 25 years in clubland to tell. Originating from Essex, now residing in Brighton, she's a woman that's worn many industry hats; as a Promoter, DJ Manager and agency owner, Radio Station boss and presenter. She strives to champion true talent of all shapes and sizes, and push for true equality and respect for all on the dancefloor. She believes that music can unite us all and wants to break the silence on what it's really like being a woman in dance music.
Sydney Blu
Sydney Blu is a Canadian Artist, Event curator and label owner. Sydney has spent her career as an activist for the LGBTQ+ community and is fighting for gender equality in Dance Music.
Veronique de Leon
Veronique de Leon is a Dutch artist Booker (Elevation Events) and club manager (WAS.) with 7 years of experience in the field. She strives to make the dance floor as safe and sustainable as possible. She regularly organizes panels and workshops at WAS to discuss important topics and also found an 'Awareness team' to make venues a safer space.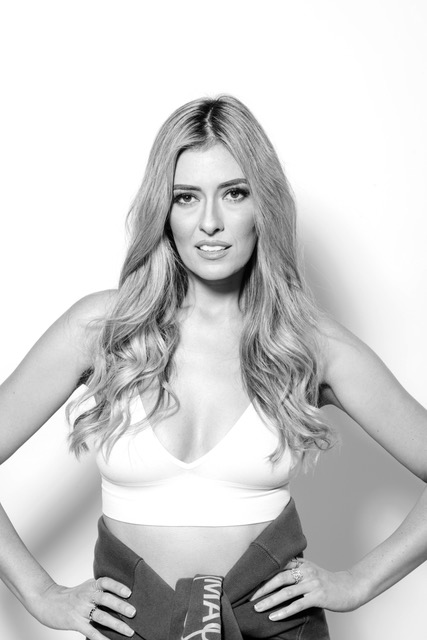 Zeisha Fremaux
New Zealand DJ, Vocalist, Producer and Radio Host, Zeisha, is the founder of 'Underplayed NZ' – a community of rising new talent. She uses her voice to speak out against harassment and to stand up for equality in the music industry.